Print Features
There are a number of things that make up a print curriculum, including custom cover art, congregational photography, forewords, endorsements, sizes and more. Watch this clip to hear about some of the many features!
Full-color Magazine Style
Lifetogether produces full-color, professionally-designed, customizable curriculum in magazine-style quality that is sure to impress. You get full print-ready files that can be professionally printed on glossy or matte paper, with the ability to journal within the pages.
Custom Cover Art
Lifetogether develops a beautiful, fully-custom cover art to integrate with the theme of choice. The back jacket is designed with a brief Pastor's biography, church logo, ISBN and promotional copy, just like a professionally published trade book.
Congregational Photography vs. Professional Stock Photography
Well beyond any basic, black-and-white study guide, our print curriculum features hundreds of high resolution, congregational photography directly from the lives and ministries of your congregation that becomes almost like a "school yearbook" for the church. This kind of curriculum gets the buzz and buy-in that not many other programs can achieve.
Lifetogether also offers the option to produce a print curriculum with full stock photography that can go beyond your congregation. For churches that lack a pool of beautiful congregational photography, we provide stock photos that make any curriculum look like a professionally published trade book.
Foreword and Endorsements
Lifetogether knows from experience that custom campaigns work best with buy in, which is why we help you secure endorsements and a foreword from well-known, reputable pastors and Christian leaders.
Appendix
Lifetogether provides 40 pages of features in the appendix for your leaders and groups so they will be equipped with all the tools they need to get started, be sustained, and make it the best small group experience ever!
Senior Pastor Welcome
Studies show that the sheep of a congregation long to hear the voice of their shepherd, which is why Lifetogether starts each custom curriculum with a personal message from your Senior Pastor.
Smart Curriculum
Every curriculum is written not just as a study of a passage, but also in a way that starts new groups and helps sustain them at the same time!
Custom size
The scope and size of your custom campaign needs a print-curriculum companion sized to match. Lifetogether will help you choose the right size, whether it is more traditional, like 6×9 or standard magazine size, or completely custom.
Resale ready curriculum
Every Lifetogether curriculum series comes with its own unique ISBN and barcode for both the DVD and printed study guide companion, which means it is instantly ready for resale.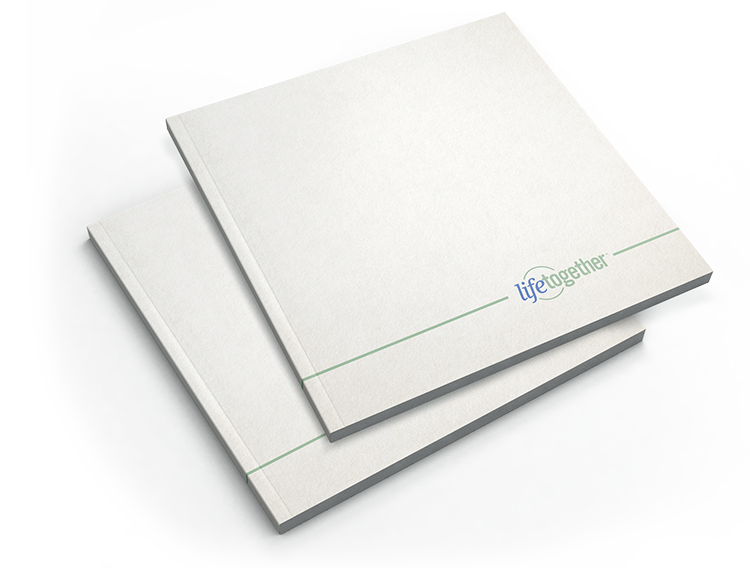 Get free training resources.
Sign up for a free copy of our latest catalog that walks you through our feature projects, recent ministry partners, latest innovations that your team can learn to apply at your church, training resources, access to some of our free samples, and descriptions of some of our latest programs and offerings.
Ready to get started?
Find out how you can get started with one of our Coaching and Consulting Services today.
How to get started